Setting the Stage for Sustainable Consumption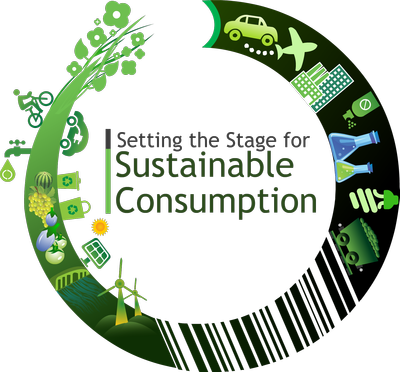 We have heard about the necessity to change our consumption patterns towards sustainability. But, what does it actually mean to consume sustainably? Are there already some options that can trigger the transformation for sufficient lifestyles? If yes, what does this imply for ourselves and the society we live in? These are some of the questions that the 2012 edition of the
Freiburg Forum on Environmental Governance
is seeking to address. Through the theme
"Setting the Stage for Sustainable Consumption"
, this Forum will emphasize a unique approach to the issue of sustainability as it addresses the power of the individual consumer to shape markets, shape public perception, and shape futures: the need for a fundamental change.
In an attempt to put our inspiring ideas into practice, MEG students have organized a day dedicated to experiencing new concepts in a creative matter in order to answer some of the pressing questions underlying responsible consumption. Our Forum will present scientific information with new forms of media that will ignite an alternative process of self reflection and learning, inspired by discussion among all participants.

We - 26 Environmental Governance Master Students representing 19 countries - invite you to join us, on 2nd March 2012 to experience this unique approach to the issue of sustainability. We invite all international and German students and academics as well as the general public of Freiburg to put the topic of sustainable consumption on the stage. The one day format will include theatrical performances by the MEG students themselves, complemented with academic input by well renowned keynote speakers, a documentary that shows the attempts to live sustainably in a city and a sustainable consumption leaflet for Freiburg.

The Freiburg Forum is an annual event organised by students of the M.Sc. Environmental Governance (MEG) of the Albert-Ludwigs-University as part of their study program. Unique worldwide, the interdisciplinary MEG program was established to train future leaders to facilitate environmental governance that includes market, state and civil society. The 2012 event is the 5th in the series with previous editions attracting outstanding speakers such as Nobel Laureate Elinor Ostrom, the recognized environmental activist Vandana Shiva and the former President of the Wuppertal Institute Ernst U. von Weizsäcker.
Check here the uniCross article about the Forum.
Event Poster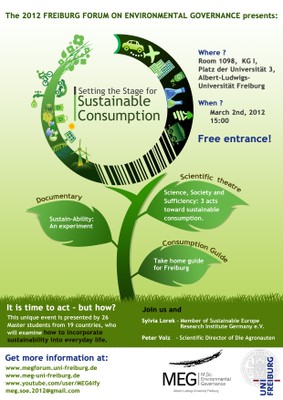 We would like to thank our friend Rupesh Bairy for his help developing the logo, poster and flyer of our Student Organized Event.