The Student Organized Event
As part of the international M.Sc. Program of Environmental Governance at the University of Freiburg, students are responsible for conceptualizing, developing and organizing an annual Freiburg Forum on Environmental Governance. All of this is done by students independently and in parallel with ongoing modules and academic activities. Each year, the forum deals with a current international topic of interest which affects how environmental governance is carried out by affecting market, state and civil society coordination mechanisms to tackle environmental problems. The general aim of this exercise for the students is to foster discussion, cooperation efforts, group work abilities, as well as learning how to administer such a forum. Additionally, the SOE, when ending in an actual event, seeks to plant the seeds of sustainable development and wise leadership in a new generation of global citizens, namely students, junior staff from NGOs, administrations, and enterprises, but also senior personnel and the wider public.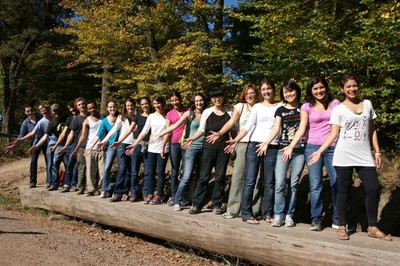 The 7th generation of MEG Programm
Find out more about the upcoming SOE taking place in April this year in 2016!
2016 - Who.Shapes.Complex.Futures
Information about previous Student Organized Events
2007 – The role of leadership in environmental governance

2008 – The role of religion in environmental governance
2010 – The role of new media in environmental governance

2011 – Inspiring change towards a green economy